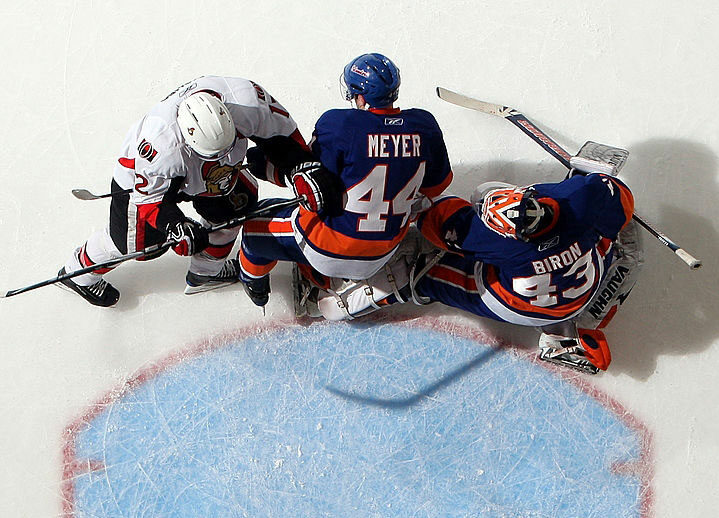 Being an undersized, undrafted defenseman, Freddy needed to set his goals high. First, it was to play college hockey (2003 Boston University Male Athlete of the Year, Team Captain). The next big goal was to play in the NHL (played for PHL, NYI, PHX, ATL). Once he reached that goal, Freddy became a strong believer in DREAMING BIG. So much that, when he autographs cards and memorabilia for kids, it reads "DREAM BIG!" with his signature following it. Don't take NO for an answer, DREAM BIG!
After nine years, 281 NHL games, 450 pro games, 136 points, Freddy Meyer launched Dream Big HockeyStars in the summer of 2012. Moving back to the Greater Boston area from Sweden, Freddy established his first series of semi-private clinics. The focus was on a small group (max 10 skaters) with a heavy emphasis on teaching players to perfect each rep. Since that summer, Dream Big HockeyStars has grown into one of the premier hockey institutions in Massachusetts. DBHS currently offers semi-private clinics, summer camps, private lessons, youth hockey weekly skills, game performance analysis, career consultations, and summer tournament teams.
Freddy's vision for Dream Big HockeyStars was to create a high-performance hockey development program that provides an opportunity for athletes to receive top quality instruction from elite level coaches.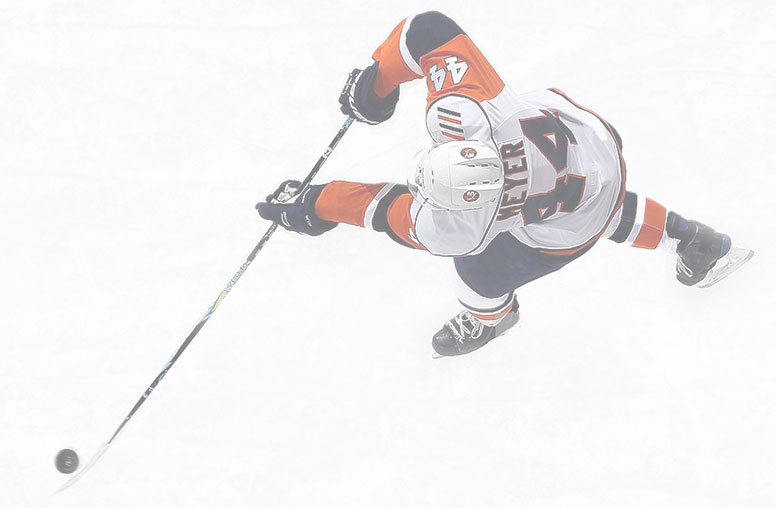 If your athlete has aspirations to play at the next level, you will not find a better environment to learn and develop then with Dream Big HockeyStars. Freddy has designed programs that will complement their regular season schedule, yet accelerate their skill development. It is great to play games, but the true development comes through repetition under the watchful eye of a professional. His hands-on-approach is second to none and he will help your hockey player achieve their goals. Do you have what it takes to DREAM BIG?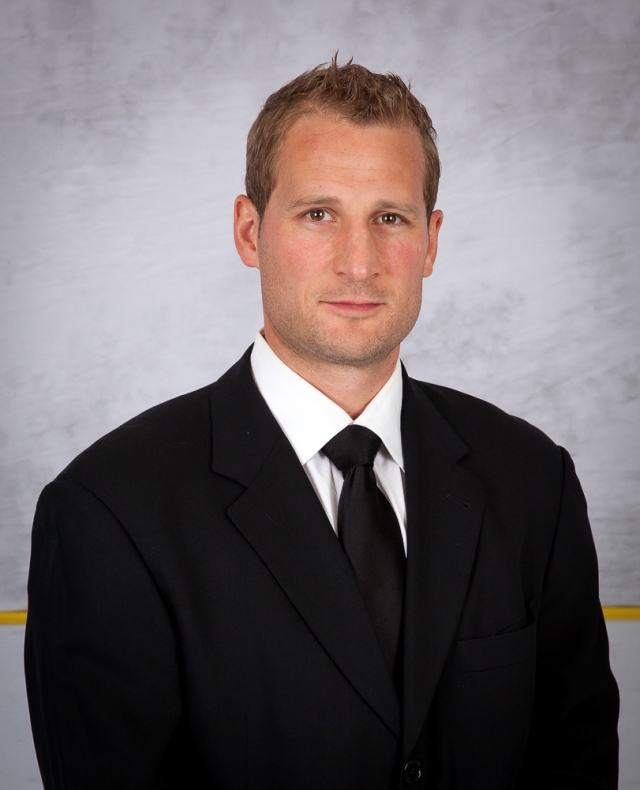 FREDDY MEYER
HEAD INSTRUCTOR
Freddy has played almost 300 NHL games for the Philadelphia Flyers, Phoenix Coyotes, New York Islanders and the Atlanta Thrashers. He is currently the Head Coach of the East Coast Wizards Jr. A Team (EHL). The previous two seasons he was the Assistant Coach for the Manchester Monarchs of the American Hockey League. The Monarchs are highly regarded for developing the future stars of the Los Angeles Kings.
Prior to his NHL career, Freddy played for Boston University. During his college career, he was honored as Hockey East First Team All-Rookie Team, Hockey East First Team All-Star and served as Team Captain as a senior. He capped off a great college career as a First Team All-American and was named the 2003 BU Male Athlete of the Year.
Freddy has represented Team USA in numerous International events: 1998 Under-18 World Championship, 2001 World Junior Championship, 2006 World IIHF Championship and the 2011 Deutschland Cup.
Growing up in NH and playing youth hockey in New England, Freddy is looking forward to the opportunity to share his superior hockey knowledge and talents with the next kid that wants to DREAM BIG!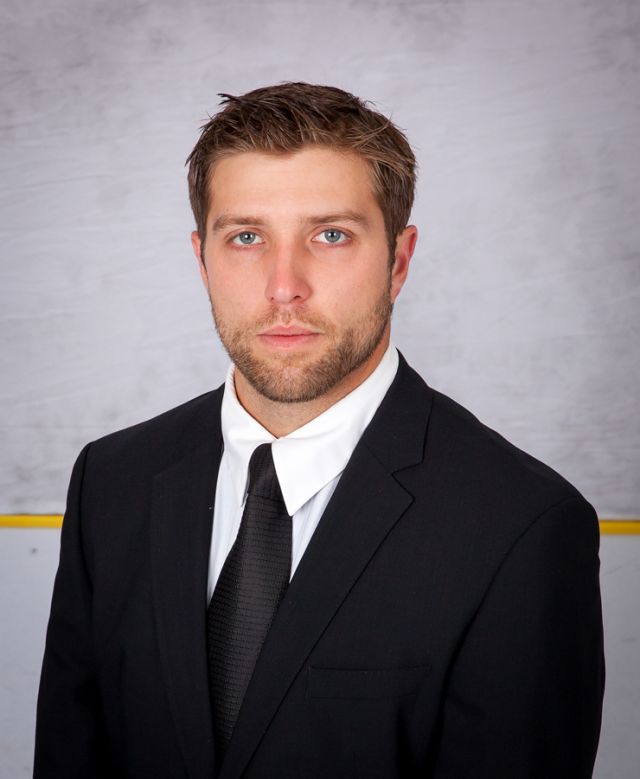 KORY FALITE
HEAD INSTRUCTOR
Kory Falite, is a 2010 University of Massachusetts-Lowell graduate.  During his time at Lowell (2006-2010), Kory was a member of the Men's Division 1 NCAA hockey program.  He complied 60 goals and 46 assists in his 4 year tenure with the River Hawks.
After graduating Falite signed with the St.Louis Blues and was assigned to Alaska Aces of the ECHL. He played 69 games during the regular season compiling 45 points in his rookie season. He also played in 9 playoff games helping the Aces win both the ECHL regular season and the Kelly Cup playoffs.
Falite played the part of the 2011–12 season with Norway's Manglerud Star Ishockey, but returned to North America to pursue his professional career after signing a contract on December 11, 2011 with the Florida Everblades of the ECHL.
He was then sent to the Utah Grizzles to finish the remainder of the 2012 season. Falite played over 90 games with Utah until he was traded at the deadline the following season in a 7-player deal. He was sent to the San Francisco Bulls to finish the 2013 season.
In the fall of 2013, Falite joined "World Select" and was assigned to coach in Hong Kong for the Hong Kong Selects. While in Hong Kong, Kory was the Director of Hockey Operations, coached several U8-U17 teams and organized/ran weekly skill sessions.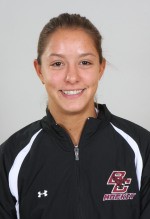 MAGGIE TAVERNA
HEAD INSTRUCTOR
Maggie Taverna has been involved with the game of hockey since the age of 7. As a player, she had one of the most decorated careers at national power house Boston College.
As the newly hired head coach at Dexter Southfield she plans on bringing her playing and coaching experience to elevate the girls program.
Before Dexter Southfield Taverna was the head coach at Arlington Catholic High School (2010-2017), Taverna led the Cougars to the state championship game four times in seven years (2012, 2013, 2014, 2016) and has won three Central Catholic League championships. Taverna also coached Arlington Catholic to the 2012 state championship and was later named the 2012 coach of the year by the Boston Globe. Her players have gone on to play at some of the top women's programs in NCAA Division I and III.
Taverna had a standout playing career at Boston College, where she was one of the team's captains in 2008-09.
While at The Heights, the defenseman helped the Eagles advance to two NCAA tournaments, including a berth in the 2007 Frozen Four – the program's first-ever appearance in the national semifinals. BC also won three Beanpot championships while Taverna played in Chestnut Hill. In 2016 Taverna was inducted into the Beanpot hall of fame. She tallied 67 career points (15 goals, 52 assists), the fourth-highest total by a defenseman in program history at the time of her graduation. She also left the program playing 141 games, the most by any player when she graduated.
Taverna was a member of two U.S. Under-22 teams (2006, 2007) and was a member of the player pool for the 2009 U.S. Women's National Team.
In 2013, Taverna was drafted by the Canadian Women's Hockey League's local entity, the Boston Blades.
In 2016-2017, Taverna was a practice player for the NWHL affiliate Boston Pride. She played in two pre-season games against Boston College and the Russian National team.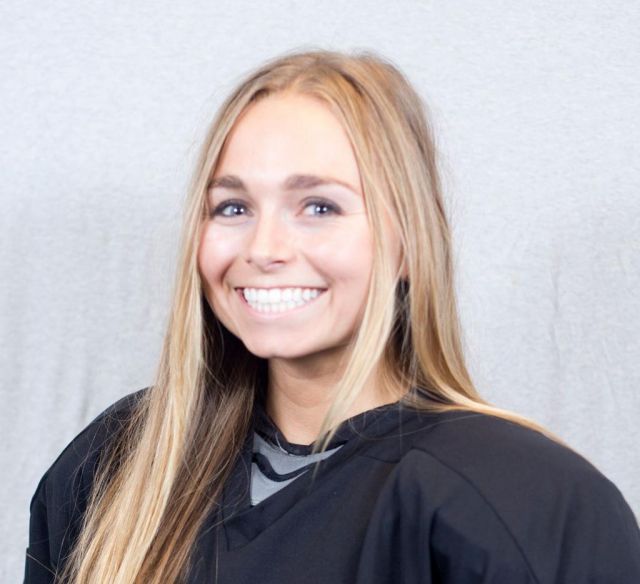 LEXI BENDER
HEAD INSTRUCTOR
Lexi Bender, a standout defensemen for the Boston Pride, was drafted 15th overall in the 2015 NWHL draft after a stellar career at Boston College.  In her rookie season with the Pride, Bender played in 17 games and she scored 2 goals and added 4 assist.
While on Chestnut Hill, she earned All-Hockey East honors in all four years and played in three Frozen Four National Championships.  She finished her collegiate career ranking 17th in program history in scoring (95 points), eighth in assists (76), third in plus minus (+164) and set a new program record with 154 games played.
Additionally, she represented the USA National U22 team during her junior season.